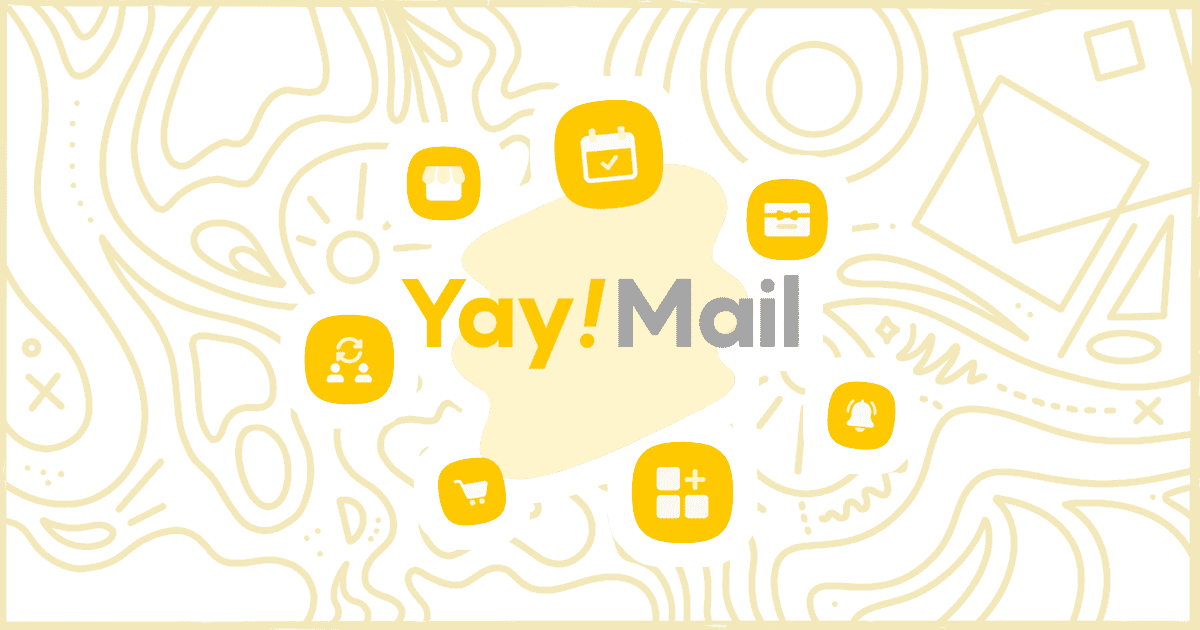 How To Customize WooCommerce Emails Using YayMail Plugin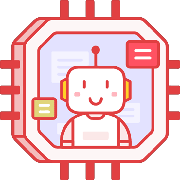 Tired of struggling with your product descriptions?
ProductWriter.ai
can use your existing data and the power of artificial intelligence to write high-quality product descriptions for you in seconds.
Get started for free!
Are you a WooCommerce store owner? Do you have a stunning WooCommerce website? You have a good setup for online success.
Yet do you feel something is missing? You decided to connect the missing dots. And you just found out that the WooCommerce email order templates are generic in appearance.
Well, WooCommerce offers eleven transactional email templates. These email templates are boring and lack visual appeal. Branded, visually engaging, and personalized WooCommerce emails increase the chance of conversion rate and attract and engage more customers. You cannot customize WooCommerce emails in a personalized way. It only allows for very limited and very basic customization features.
The following are the WooCommerce store emails that are sent to your customers:
New Order: New order email notification sent to store owner after receiving an order.
Canceled Order: Cancelled order email notification sent once an order is cancelled.
Failed Order: Failed order email notification sent once an order is failed.
Order On-Hold: Order On-Hold email notification sent to a customer if the placed order is on hold.
Customer Invoice: Customer invoice email notification sent to customer with payment details after the purchase is done.
Order Processing: Order Processing email notification sent to the customer once an order is placed.
Customer Note: Customer note email notification to customer if a note is added.
Password Reset: Password Reset Request email notification sent when a customer request a password request.
Order Completed: Order Completed email notification to the customers.
New Account: Email notification sent to customers once they create an account.
Order Refunded: Refund notification if the product is refunded.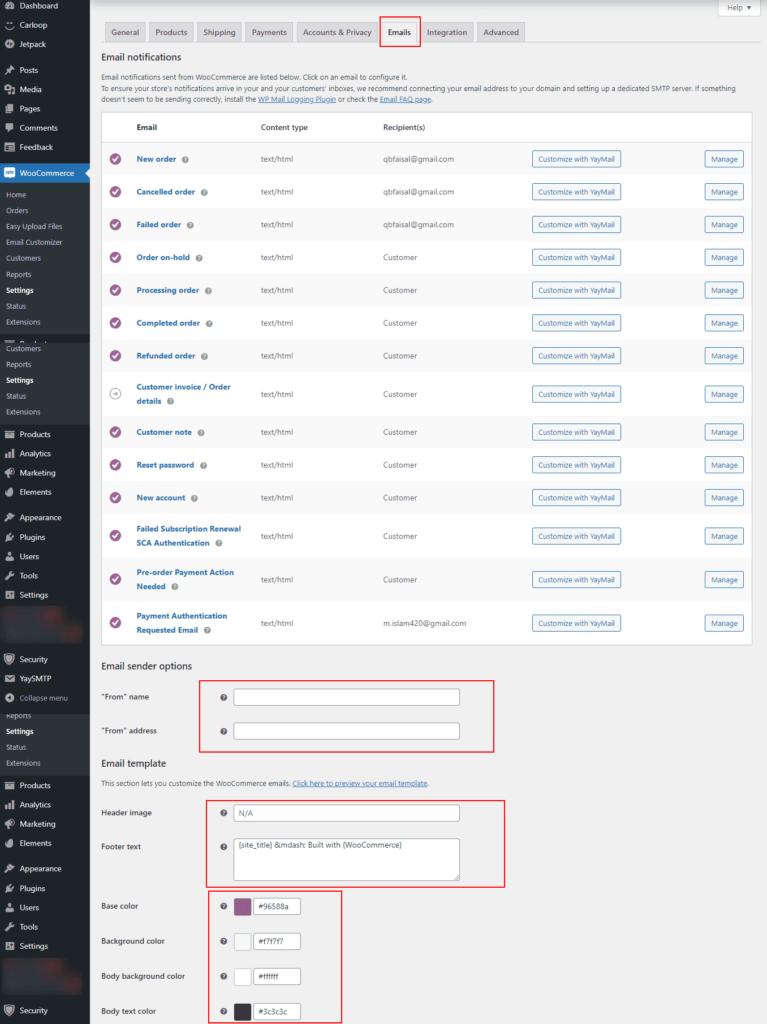 Why You Should Choose YayMail To Customize WooCommerce Emails
YayMail – WooCommerce email customizer is the best WordPress plugin for WooCommerce email customization. You can customize WooCommerce emails easily using the YayMail drag and drop email builder. You don't even need coding knowledge for this. YayMail – WooCommerce email customizer offers several widgets to customize WooCommerce emails. You can personalize everything in the WooCommerce default email template by adding your logo, personalized email heading, title, text, images, colors, fonts, columns, etc. with the YayMail customizer.
You can also design your desired template from scratch using this plugin. The most amazing part of this plugin is it's free. The free version allows you to customize eleven WooCommerce emails. There is always a chance to convert your leads when you send out professional and visually appealing customized emails to customers. The free version of YayMail features several great and powerful widgets to customize WooCommerce emails. There are twenty-five widgets in the left panel of the plugin interface categorized as Basic, General, and WooCommerce.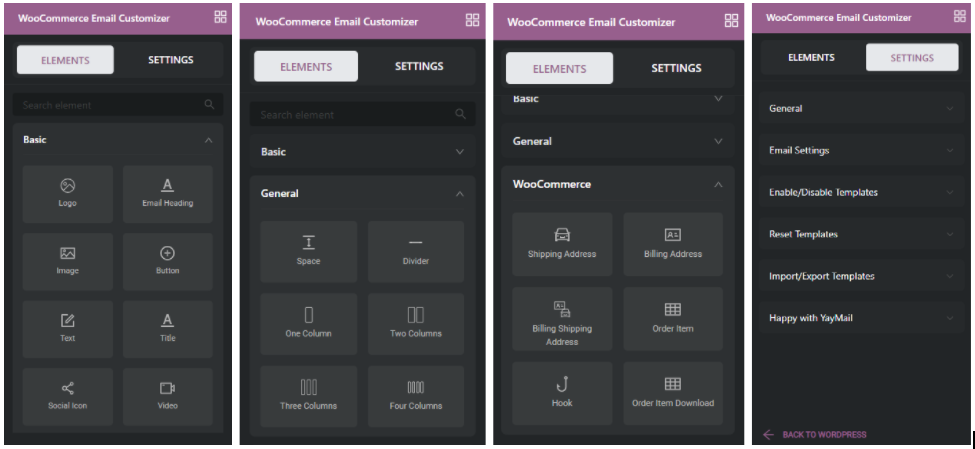 The settings panel features allow you to set RTL and LTR directions. You can enable or disable the default template. You can also control the settings of products image, SKUs, product descriptions. If you enable the template during the customization, it will override the default template.
Let's Customize WooCommerce Emails Using YayMail
So, how to customize WooCommerce emails with YayMail WooCommerce email customizer. To do so, navigate down to Plugins > Add New from your WordPress dashboard. Once you do this a bunch of plugins will appear. Type YayMail In the Search box on the top right corner. Click Install and Activate, once the installation is finished. Don't forget to install the WooCommerce plugin as the WooCommerce plugin is a prerequisite to customize WooCommerce emails using YayMail.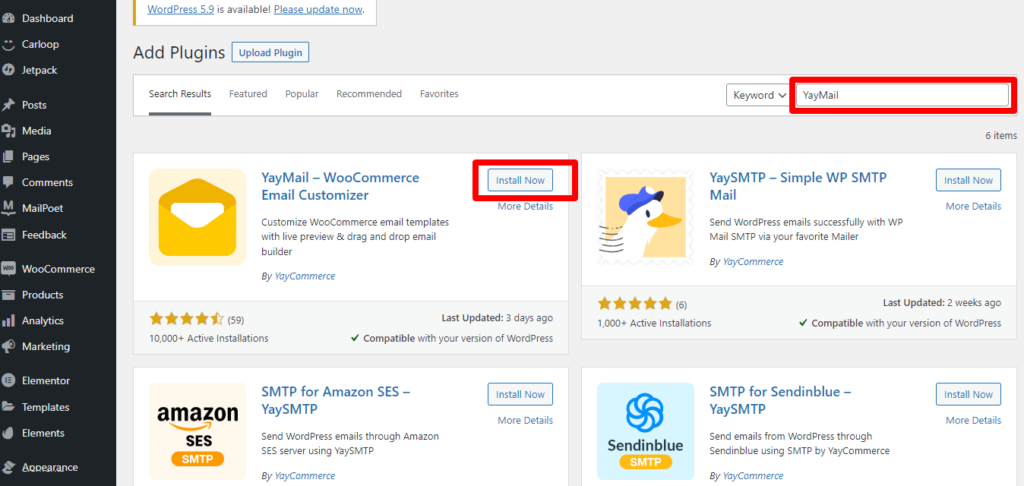 Customize Default WooCommerce Email Templates
Let's jump to customize WooCommerce emails and build one from scratch. We will start customization with the default WooCommerce email templates. Then we will go for building an email template from scratch. To customize WooCommerce emails, navigate to WooCommerce > Email Customizer or navigate to Plugins > Installed plugins. Find the YayMail WooCommerce Email Customizer from the installed plugins list. Clicking on Start Customizing or Email Customizer will open the WooCommerce default New Order email template in YayMail WooCommerce email customizer.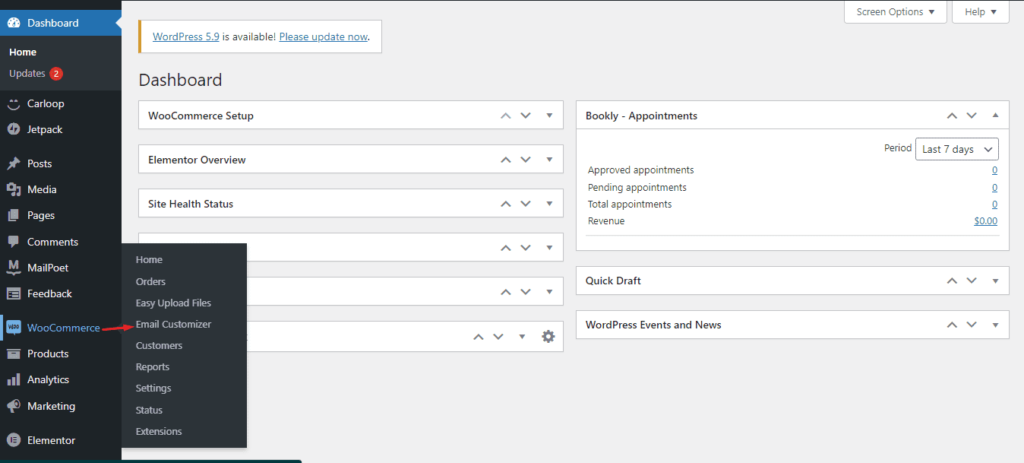 Customize the Default New Order Email Template
Let's start customizing the default New Order WooCommerce email template. The email template will appear on the right-side panel. You will get widgets on the left side panel. The first section of the default WooCommerce template is the Woo logo. Click on the WooCommerce logo, you will see a logo widget element appearing on the left widget panel. Just upload your logo by clicking the Change Image button. You can set logo alignment, padding, width, background color, and image URL here.
WooCommerce default New Order email template is attached here for your better understanding. The first image displays the features of the YayMail builder located on top of the panel. The second image clarifies the use of widgets section-wise. The third image guides you to the use of YayMail widgets for each section separately.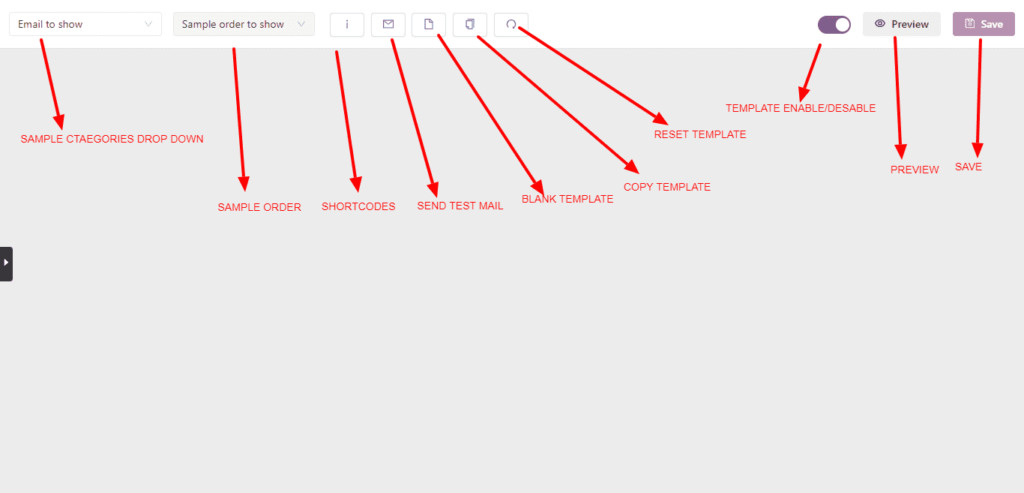 Customize the Email Heading
Moving to the section, Email Heading. You can add personalized heading here, set padding, background color, text color, font family. A text editor feature in this widget allows you to make text alignment, add images, shortcodes, and font size. The following visual will give you a better understanding to customize WooCommerce emails.

Customize Order Items and Address
WooCommerce Order Item section visualizes customer products, price quantity, and payment details. You can customize this section with the Order Item widget. As usual, you can customize section padding, background color, title color, text color, border color, product title, price title, quantity, subtotal title, etc. The Billing Shipping Address widget features the same customization features as the WooCommerce Order Item section. Here is the visual of the Order Item and Billing Shipping Address.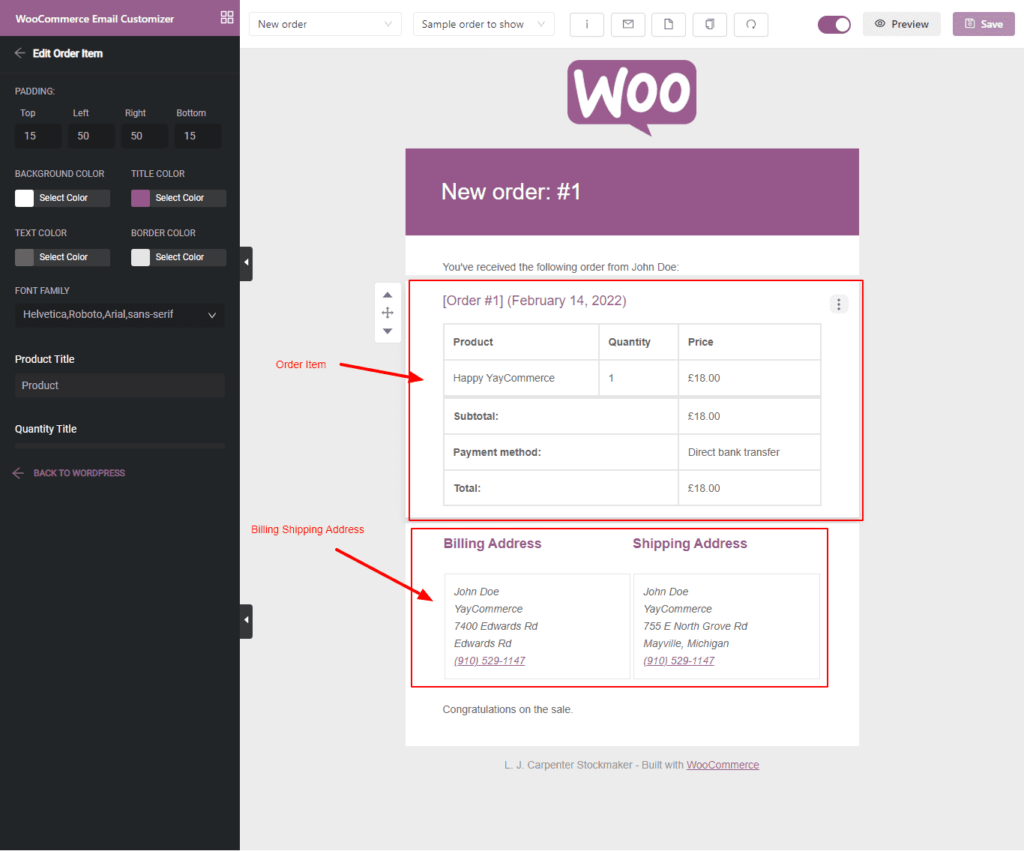 Lastly, this default New Order template contains two more sections. The Text section that we have already discussed and the footer which you can customize by a footer widget. There are some more powerful widgets like column widget (1-4), image widget, image list, button, text, text list, title, social icon, video, HTML, hook, order item download widget (for the downloadable digital products ex. Yaymail Pro, themes ). You can customize the WooCommerce emails template with these powerful widgets and make your email templates personalized, visually appealing, professional, and conversion-focused. You can check to send test mail once you are done.
We have already learned how we can customize the WooCommerce emails template using the YayMail plugin. Designing a WooCommerce email template from scratch is also easy with YayMail. Just drag and drop the widgets on a blank template and customize it according to your needs.
Designing From Scratch Using YayMail- WooCommerce Email Customizer
Next, the New Order email template below in the figure is designed from scratch. Here is how we can do it. Open a blank template. Drag and drop the logo widget on the top of the blank template. Similarly, drag and drop your other desired widgets one by one. Once you complete adding all your required widgets. Start branding the template. Give your favorite color; make the template visually appealing, professional, and engaging. You can always preview the template and check the responsiveness for mobile devices at any time of your customization. Make sure to save all your works by clicking the save button.
Look at the design. We have customized the logo, added a personalized heading, added two visually appealing sections, and branded the email template. Good branding will always tempt the customers to purchase. Now, you know – customizing WooCommerce emails with the YayMail-plugin will create an opportunity for upselling also. Looks good for the business, right?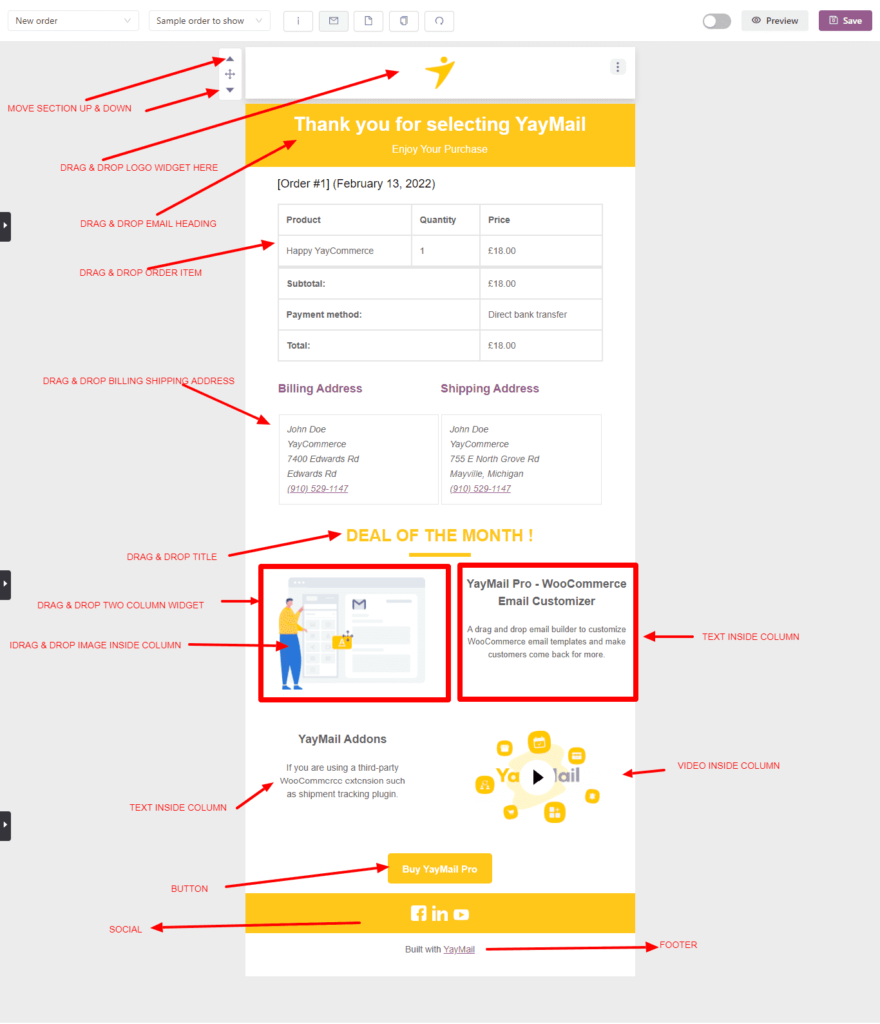 YayMail Free Vs YayMail Pro
YayMail free version lets you customize 11 WooCommerce default emails. There is also a Pro version of YayMail. YayMail Pro allows you to customize WooCommerce emails of several third-party WooCommerce plugins by adding hooks, custom fields, tables, email meta fields. Upgrading to YayMail Pro will give you access to the following third-party WooCommerce Plugins.
Shipment Tracking by WooCommerce
Advanced Shipment Tracking by Zorem
YITH WooCommerce Order Tracking
Shipment Tracking by Plugin Hive
​Chitchats Shipping Pro
Custom Order Status by Tyche Softwares
Order Status Manager by SkyVerge
Admin Custom Order Fields by SkyVerge
WooCommerce Show Attributes by Isabel Castillo
Checkout Field Editor by WooCommerce
Checkout Field Editor by Themehigh
Flexible Checkout Fields by WPDesk
Back In Stock Notifier by codewoogeek
Pagar.me for WooCommerce
Software Addon by WooCommerce
WPML
Polylang
​TranslatePress
Pricing and Plans
The YayMail Pro version comes with two plans-Yearly and one-time. You get access to customize WooCommerce emails of several- third-party WooCommerce plugins at only $59/year for a single site. Here is a detailed pricing plan for the YayMail Pro. Alternatively, you can get the detailed pricing from this link Purchase YayMail Pro.
Yearly Plan
Single Site – $59
3 Sites – $139
Unlimited Sites – $399
One-time Plan
Single Site – $199, Lifetime
3 Sites – $339, Lifetime
Unlimited Sites – $999, Lifetime
Reviews and Ratings
Finally, the plugin has already got 10000+ active installations and a rating of 4.6 out of 5. In addition, the plugin has also received excellent reviews from clients.
Wrapping Up
Interaction among store owners and customers is very crucial for online business success. Likewide, personalized and customized WooCommerce emails increase interaction, create brand value, increase click-through rates, and increase conversion rates. YayMail is a must-have plugin for your WooCommerce store. Let's see some advantages of having YayMail.
Drag and drop builder
Live preview.
Powerful widgets.
Powerful shortcodes.
Test email sending feature.
Flexible and user friendly.
Full refund within 30 days after purchase.
Wide range of compatibility in Pro version.
In conclusion, YayMail has got your WooCommerce email branding covered. So, Why not customize WooCommerce emails and grow your online presence, engage more customers and make your eCommerce brand successful.