How to Remove the SKU from WooCommerce Product Pages
A SKU, or stock keeping unit, is a way for a store to identify their products and all its associated attributes with one easy to use number or term. Support for SKUs is built-in to WooCommerce by default. You can find the field for them in the product editing screen under the "Inventory" tab.

SKUs are a very important for stores that deal with a lot of products and inventory variations. They are key in recommendation/suggestion systems for online retails. At a more basic level they play a vital role in inventory management and tracking.
So SKUs are great but what's not so great is that many WooCommerce themes, including the very popular Storefront, show them by default on the product pages of your site. You might not want visitors to see your individual SKUs and want to remove them entirely from your product pages.
Typically, your customers don't really care abou the product SKU and this information is just cluttering up your buying process. You can remove the SKU field entirely from your WooCommerce store if you aren't afraid to get your handles a little dirty in some code (or want to pay a developer to take care of this for you).
Your best option is to use our Remove WooCommerce Features plugin to get rid of the SKU on your own. You'll save time and money by not having to find and pay for a WordPress developer to take care of this for you.
How to Quickly Remove SKUs from WooCommerce
You can purchase our Remove WooCommerce Features plugin and have SKUs removed from your site in seconds without having to write any code or pay a WordPress developer to work on your theme for you. After your copy of Remove WooCommerce Features is installed and activated the process is easy.
---
Step #1
Go to the WooCommerce section of your WordPress installation's admin menu and click the link that says "Remove Features."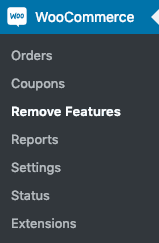 Step #2
Find the setting for "SKU" and click the checkbox so that it's marked like so:

Step #3
Press the
button.
---
SKUs will be removed from the product pages on your site as soon as you've hit that "Save Settings" button. On the admin side, Remove WooCommerce Features keeps the SKU field intact so you can still make use of it internally.
One extra bonus of using our plugin is that your change will last no matter what theme you are using so you don't have to worry about constantly updating files to keep SKUs off of your site.
Plus, Remove WooCommerce Features supports all sorts of additional changes you might want to make to your store. The process for each is just as simple as removing SKUs. With a few clicks of your mouse you'll be able to: