How to Remove the Enhanced Country and State Dropdowns from WooCommerce
Everyone is familiar with the checkout process of an online store by now. You are asked to provide your billing and shipping information at the time you are submitting your order and typically this involves selecting your country and state/province from a dropdown.
The developers of WooCommerce recognized this is an annoying step in the checkout experience and came up with a solution to make entering your address information quicker.
The checkout screen inside of a WooCommerce store comes with enhanced dropdowns for country and state that let you search with text as well as select from a long list of options.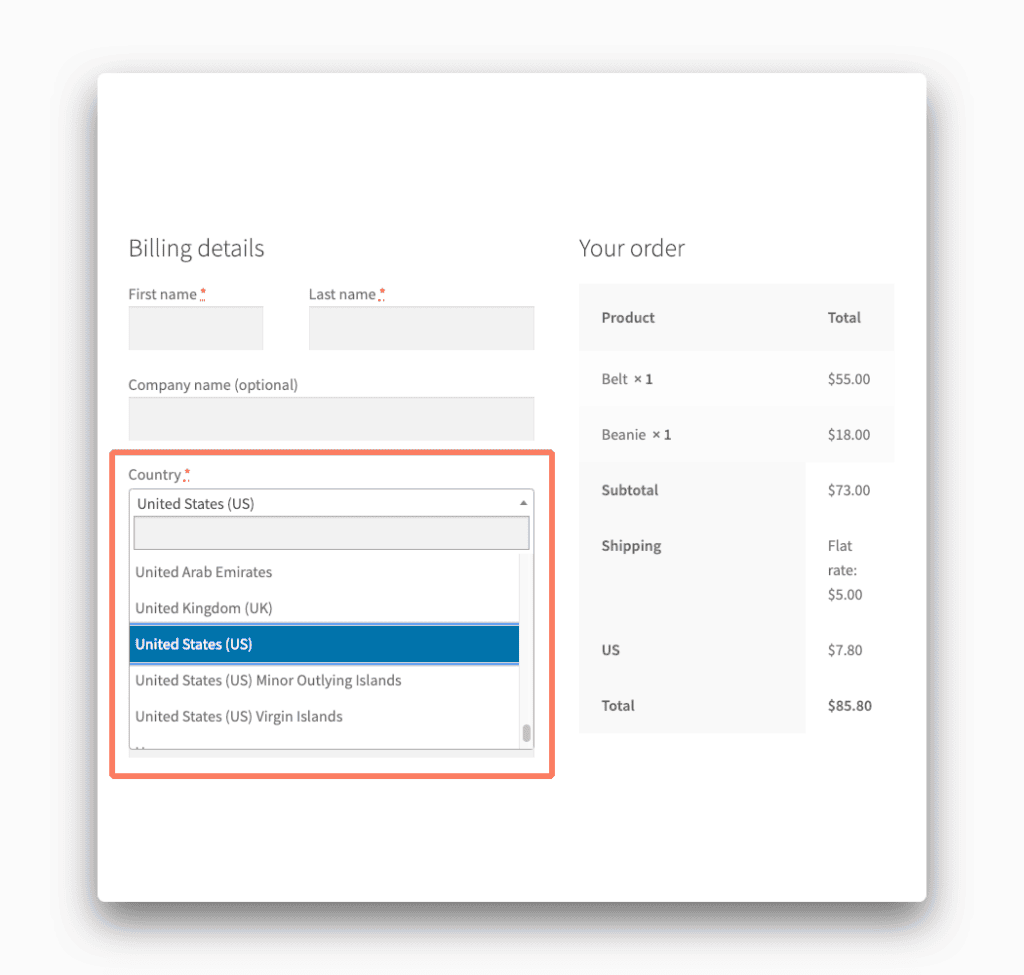 This is great and perfectly suitable for plenty of online stores. Of course, because we're dealing with the WordPress ecosystem and the volatility of third-party plugins and themes, there can sometimes be conflicts outside of your control that cause issues with your store. And sometimes the solution to those conflicts is disabling parts of WooCommerce that are getting in the way; things like the fancy country and state dropdowns.
A veteran WooCommerce developer should be able to modify your site's theme, or create a plugin for you, that removes the enhanced checkout dropdowns from your store. You'll need to be sure to do your research and find a solid programmer who you trust to give access to your site.
If you want to avoid the hassle of hiring a developer and just remove the enhanced dropdowns from your checkout on your own then you should use our Remove WooCommerce Features plugin.
How to Remove the Enhanced Checkout Dropdowns without Learning Programming or Hiring a WordPress Developer
Our Remove WooCommerce Features plugin will let you disable these special country and state dropdowns quick and easy without any kind of programming knowledge, server expertise or outside developer help required.
After purchasing and installing the plugin it's just three simple moves to get the enhanced select boxes off of your WooCommerce site.
---
Step #1
Go to the WooCommerce section of your WordPress installation's admin menu and click the link that says Remove Features.
Step #2
Find the setting for "Enhanced Checkout Dropdown" and click the checkbox so that it's marked like so:

Step #3
Press the
button.
---
Any changes you make with our plugin take effect immediately. As soon as you've disabled the enhanced dropdowns your checkout page's country and state fields will look like so:
This change will last as long as you have Remove WooCommerce Features installed and active on your site. The plugin works no matter what theme you have installed and functions no matter how many times you update the theme or swap it out for a different look.
The plugin does a whole lot more than just this though. You can remove and disable dozens of WooCommerce features (and counting) from one simple settings screen inside of your WordPress admin. Some of these features include: